AUO one-stop shopping provides high quality comprehensive solar energy solutions covering power plant, green building, energy storage to components/accessories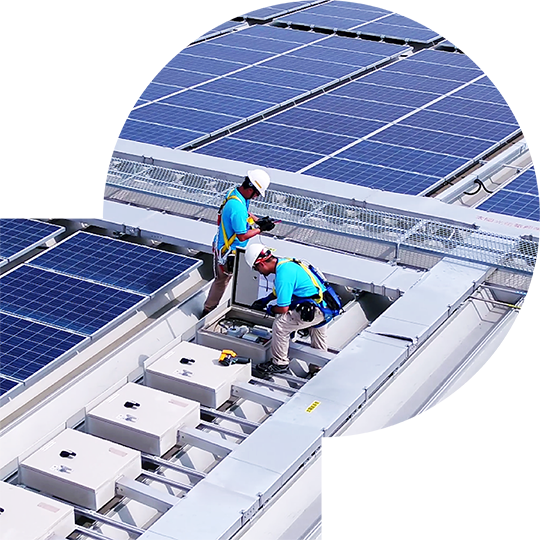 As the leading provider of comprehensive PV power plant solutions, AUO leverages abundant coordination experiences and technological strengths to integrate resources and partners to provide high-efficiency all-round solutions, from application, implementation, operational maintenance to energy management, that can be partly or completely customized based on customer requirements. Also, AUO offers a complete series of building PV solutions, from field assessment, module design and installation, microgrid energy storage to system operation service. With comprehensive product portfolios and existing key technologies, AUO teams with upstream/downstream partners in all fields to help customers efficiently create smart buildings generating renewable energy.

In the meantime, through our extensive experiences in energy creation, storage and management technologies, AUO's energy storage solutions can integrate hardware installation and software according to different application scenarios to provide an ideal and all-round energy storage solution, including AFC (Automatic frequency control) storage installation, microgrid installation and energy storage for homes and industries to address the needs of energy transition.
AUO also launches premium solution packages integrating components/accessories of solar power plant including high-efficiency PV modules, monitoring software/hardware solutions, converters, solar connectors, solar cables, environmental sensors and associated auxiliary materials and tools from AUO and leading worldwide tier 1 partners to provide channel customer services as well as simplify the processing process. AUO bears the responsibility of quality supervision to realize a true "one-stop shopping" for customers.
Premium solution packages provided by AUO one-stop shop
As energy issues draw more and more attention globally, AUO dedicates to refining products and technologies over the years to offer products and solutions that help customers respond to various market demands.

With extensive experiences in solar industry accumulated over the years, besides expertise of coordinating, building and operating solar power plants, AUO possesses professional R&D teams and self-owned labs to develop PV modules featuring high reliability and performance. In addition to in-house developed modules, AUO also supplies components to famous manufacturers. Based on the pursuit of high quality, all products are selected and verified by AUO to ensure performance and reliability.

AUO launches an e-commerce platform, "AUO Energy Shop", to offer cross-channel customer services free of time or region restrictions to truly fulfill service (online/offline) and provide a complete "one-stop shop".
PV modules

Selected overseas brands featuring global mainstream technologies can address various market demands with high stability and performance.

Monitoring software/hardware solutions

Provide an integrated system combining cloud monitoring software and data collector with high stability to allow customer to be aware of power generation status and track device and communication anomalies to ensure the efficiency of power plant.

Inverters

Provide Inverters from leading domestic and overseas brands to address the demands of different types of solar power plants, including residential, commercial, ground-mounted and floating.

Connectors

Provide MC4 1000V and EV02 1500V connectors to address the demands of different sites.

Cables

Besides products from leading manufacturers in Taiwan, TUV/EN certified cables are also available.

Environmental sensors

Provide various selections, from pyranometer, thermometer to temperature display.

Auxiliary materials and tools

Provide materials and tools like silicone, waterproof tape, rust remover/anti-rust agent/repair agent, connector remover and cut-resistant gloves from leading manufacturers to help customers build solar power plants.



Contact us for our comprehensive offerings