AUO integrates smart digital technologies, software, classroom hardware and devices to create dynamic learning experiences, preparing students for the future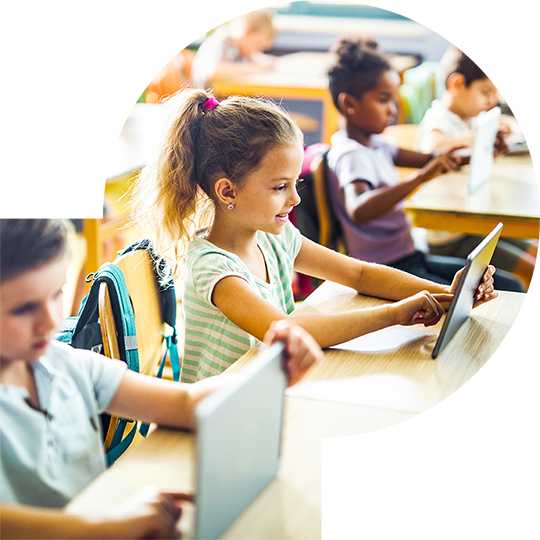 AUO smart education solutions are capable of satisfying requirements for all types of applications in education, simultaneously accelerating both online and in-person interactive teaching and learning, improving the quality of interactive teaching and learning efficiencies, and creating learning environments that inspire creativity. build an all-rounded education environment for the future, from smart classroom to smart campus.
Smart education solutions
Modern classrooms or places of learning must support richer educational materials and digital teaching tools in order to enable high-quality learning experiences and interactivity, and inspire creativity in students. AUO's integration of diverse display technologies and experience in field applications allows for a smooth, high-performance, and diverse learning experience for all types of teaching models.
Interactive classroom solution

Content sharing and interactive discussions are achieved by utilizing large-size interactive whiteboards and multiple display management systems that can be managed through an intuitive user interface. this not only enhances participation and collaboration among teachers and students, it also stimulates interaction and inspires creativity.

Hybrid teaching solution

Achieve real-time remote interaction through online streaming with support for on-demand learning. Teachers are able to achieve interactive, high-quality learning both inside and outside the classroom for in-person or remote classes.

Lecture hall solution

A hardware and software solution that assists lecturers to clearly and effectively conveying their message. the user-friendly interface integrates audio-visual equipment and large seamless video wall displays to ensure a smoothly conducted lecture that offers the audience an enhanced visual experience.

Digital bulletin board solution

AUO's digital bulletin board solution offers flexibility for announcements with a simple management interface that can be easily controlled by administrators. It greatly reduces time and costs in areas such as revising content and provides an instant and creative information broadcasting platform for an e-campus.



Contact us for our comprehensive offerings