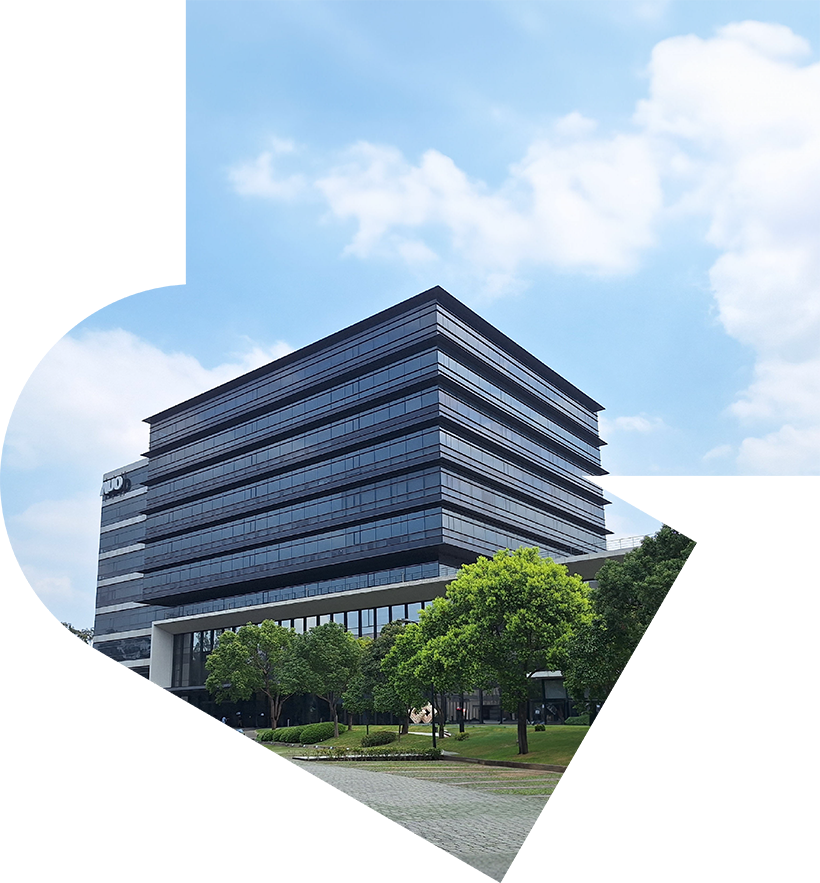 We are an enthusiastic, technology-driven company that is passionate about advancing the frontier of technology.
From our foundation as a world-leading innovator in display technologies and solutions, our global group is diversifying across numerous vertical markets and industries, offering trusted expertise and proven technical know-how in a growing range of business areas.
Founded in 1996, AUO operates across Asia, the U.S. and Europe, with a close-knit global team of 38,000 people. We practice the Gung Ho belief, enthusiastic teamwork focusing on collaborative working culture to drive advancement and win-win for everyone. See how we're helping businesses access exciting new opportunities.
Our Business Areas

Display
Leveraging our decades of industry leadership, our display technologies are continually revolutionizing human-technology interface.
System Solution
Our software and hardware integration services deliver advanced display-oriented systems and solutions across a wide range of future-focused smart verticals.

Industrial Intelligence
Our smart manufacturing solutions bring groundbreaking upgrades in efficiency and profitability for manufacturers.

Healthcare
We're meeting the needs of healthcare digitalization and the world's aging population, by creating more accurate and efficient healthcare products and solutions of the future.

Energy
With a focus on energy power plant construction, O&M, energy storage solution, and energy management, we're driving a greener future for all.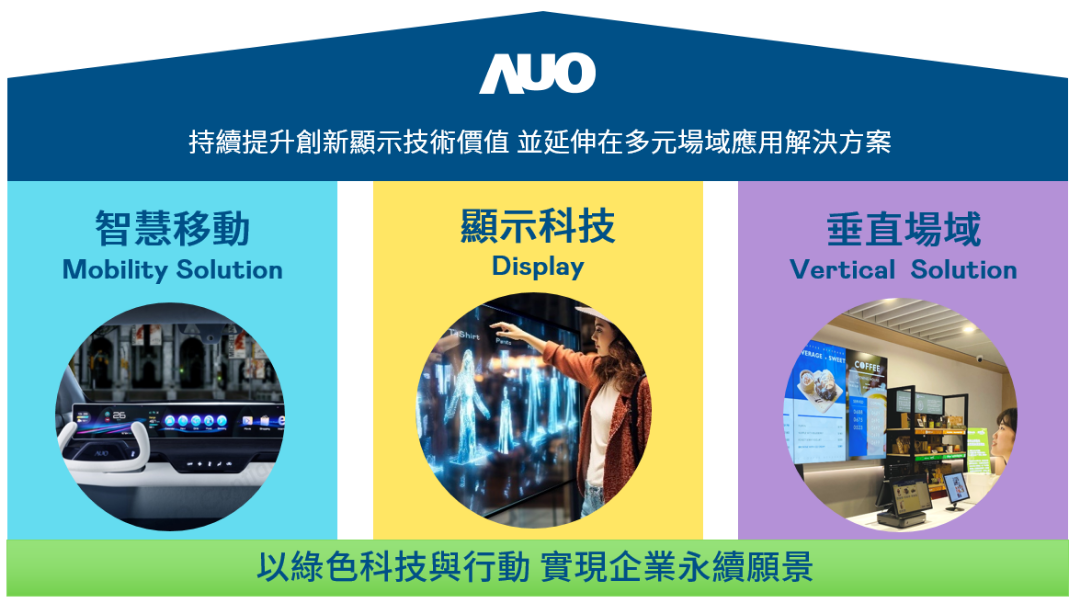 Advancing the frontier of technology with market-driven solutions
We believe constant innovation in human-technology interface solutions creates limitless possibilities for improving quality of life for everyone, everywhere. Our deep insight into industries' challenges and market demands empowers our teams to challenge the norm, and themselves, to deliver truly outstanding results. Through AUO, our clients and partners access next-generation technologies and smart vertical solutions that stride beyond today's cutting edge, opening up new opportunities for industries, markets, and end-users.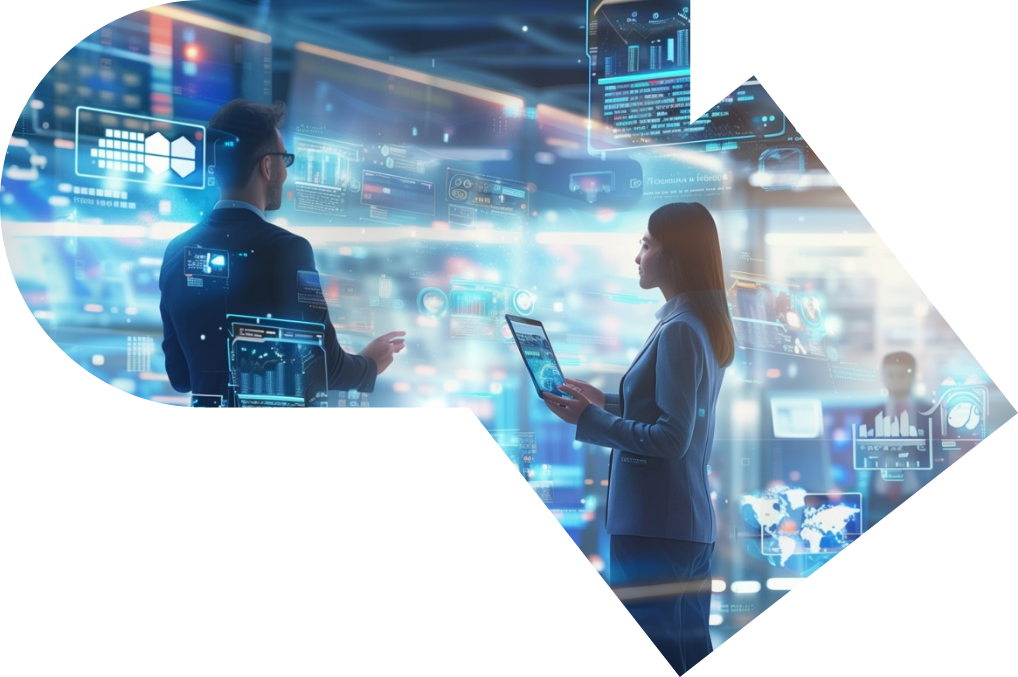 Caring for people, culture, environment, and society
Corporate social responsibility lies at the center of our organization, ensuring all our efforts contribute holistically to wider society's ambitions and aspirations for the future. We prioritize corporate governance, environmental sustainability, and social citizenship across our global business activities, and have an extensive program of sustainability initiatives.
At a Glance
Founded in 1996, AUO is an enthusiastic, technology-driven company delivering products and solution services that advance the frontier of innovation. Consolidating the strength of the Group, AUO's operation covers major business areas including display, system solution, industrial intelligence, healthcare, and energy. The company is based in Taiwan and operates across Asia, the US and Europe, with a global team of 38,000 people. AUO's consolidated net revenues in 2022 were NT$246.79 billion

AUO specializes in the R&D and manufacturing of display panel, and develops high-valued and differentiated product applications. Leading the industry with abundant R&D personnel and innovative technologies, AUO is committed to providing diverse vertical solutions through integrating core display technologies with AIoT. By integrating software, hardware, cloud, and service platforms, AUO provides one-stop services that fulfill the diverse demands of vertical markets including retail, education, enterprise, medical, healthcare, mobility, manufacturing, and energy. Through cooperation, complementation, and co-creation, AUO constructs the smart AIoT eco-system with our strategic partners, achieving our vision of realizing an innovative living future.

AUO takes corporate sustainability as its core corporate philosophy, and dedicates actions to corporate governance, environmental sustainability, the popularization of science education, cultural preservation, and caring for social welfare. AUO has been listed in Dow Jones Sustainability World Index since 2010 and in Bloomberg Gender-Equality Index since 2018. In 2022, AUO became an official member of RE100, the first enterprise in the global display manufacturing industry to commit to using 100 percent renewable energy by 2050. Through our endless devotion to smart manufacturing and sustainable production, AUO was selected for the Global Lighthouse Network by the World Economic Forum and awarded the Manufacturing Leadership Award by the Manufacturing Leadership Council of The National Association of Manufacturers.
Next Section
Tap Into The Possibilities