AUO one-stop shopping provides high-quality comprehensive solar energy solutions covering components and accessories for power plants, green buildings, energy storage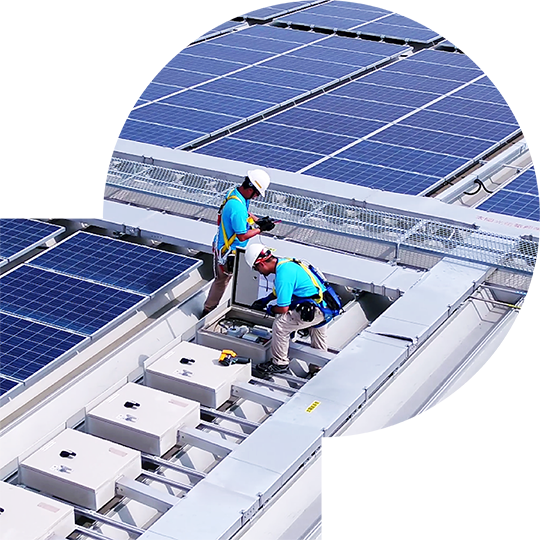 As the leading provider of comprehensive PV power plant solutions, AUO leverages abundant coordination experiences and technological strengths to integrate resources and partners to provide high-efficiency all-round solutions. From application, implementation, and operational maintenance to energy management, that can be partly or entirely customized based on customer requirements. Also, AUO offers a complete series of building PV solutions, from field assessment, module design and installation, and microgrid energy storage to system operation service. With comprehensive product portfolios and existing key technologies, AUO teams with upstream and downstream partners in all fields to help customers create smart buildings generating renewable energy efficiently.

In the meantime, through our extensive experiences in energy creation, storage, and management technologies, AUO's energy storage solutions can integrate hardware installation and software according to different application scenarios in providing ideal and all-round energy storage solutions, including AFC (Automatic frequency control) storage installation, microgrid installation, and energy storage for homes and industries to address energy transition needs.
AUO also launches premium solution packages integrating components and accessories of solar power plants, including high-efficiency PV modules, monitoring software and hardware solutions, converters, solar connectors, solar cables, environmental sensors and associated auxiliary materials and tools from AUO and leading worldwide tier 1 partners to provide channel customer services as well as simplify the processing process. AUO is responsible for quality supervision in realizing a true "one-stop shopping" experience for customers.
Energy management software, hardware, and storage solutions
Facing the necessity of energy transition, growing renewable energy in Taiwan has become the top priority. For companies, besides addressing the basic green energy demands of large power-consuming companies, it is also necessary to significantly increase the proportion of green energy, even 100% green energy, to fulfill the vision of sustainable management; for households, users also need storage devices to react to the impact of energy transition. In response to this, AUO leverages technologies integrating complete software/hardware and extensive implementation experiences to provide a holistic solution.
AFC (automatic frequency control) ancillary service implementation

AUO provides a series of complete services from initial evaluation, stable equipment implementation, and power trading platform operation to long-term operation.

Energy storage system for industries

AUO can effectively integrate green energy implementation, transfer, storage and energy management to address industry requirements of carbon reduction and achieve the goal.

Microgrid implementation service

Microgrid systems are ideal for applications in enterprises and communities. Through integrating green energy in the field, the microgrid system can achieve self-generation and self-consumption and quickly switch to standby supply when blackouts occur. With smart energy management software, the performance of the system performance is optimized.

Home energy storage system

Integrated products featuring energy creation and storage allow home storage systems to address the demands of self-generation and consumption of home solar systems and standby supply. Solutions are combined with the smart family energy management system to manage power consumption and maximize energy efficiency.



Contact us for our comprehensive offerings