We work with manufacturers to take a giant leap forward for smarter, greener productions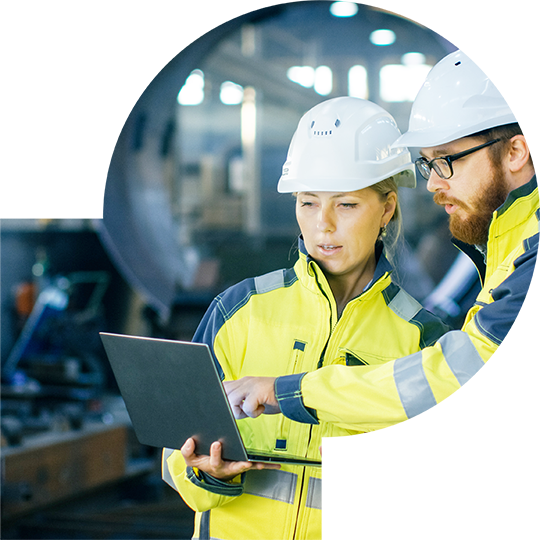 AUO understands the needs and the critical points that make or break a manufacturing sector. Having to manufacture over 240 million panels ranging over 1,000 models per year, we have accumulated know-how through a comprehensive and extensive process optimization of our productions. This knowledge enables us to help other businesses to take a step forward to upgrade manufacturing processes and approaches.

Industry 4.0 has made sweeping improvements in the manufacturing sector, and we have spearheaded the change from automation to autonomous. The cumulative experience working with manufacturing industry leaders means we can leverage industry know-how, resources, working process, and state-of-the-art manufacturing technology into production upgrades in flexibility and efficiency. Working with us means all businesses can access all of the above to transform their operation and be ready to compete in the new industrial era.
IoT, Big Data, and cloud platform integration services are utilized to facilitate digital transformation for factories of different scales and functions for businesses. Additionally, we offer the best next-generation technology for increasing production efficiency, as green manufacturing has become a necessity. We complement this technology with our capacity to synergize the value chain and create strategic alliances for green business opportunities, proactively promote sustainable products, and increase the efficiency of resource utilization.
Sustainable manufacturing
We are committed to tackling environmental and climate challenges to achieve business growth and development that is resource-efficient and sustainable. Our continual devotion to technologies and involvement in green manufacturing that seeks to reduce waste and minimize environmental impact exemplify our role in the circular economy. Whether for water, energy, facility, or environmental management, we bring practical management solutions for businesses to manage their resources effectively.
Water treatment technology & EPC project

Drawing upon our expertise in water treatment, we will make diagnostic analyses relating to the requirement of the manufacturers and draw up a solution that maximizes savings while reducing waste.

Energy saving equipment and energy efficiency project

AUO is the world's first manufacturing organization to obtain efficient energy management standards. We can assist manufacturers in creating more energy-efficient facilities with appropriate use of equipment and management approaches.

Facility intelligent management

By integrating data science, edge computing, and IoT in predictive maintenance, our intelligent management system help manufacturers boost facility equipment availability and streamline the maintenance workforce.

Environmental sustainability solution

By critically analyzing the production process throughout the lifespan of a product aiming for greener production, we can help manufacturers minimize the carbon footprint through green product management solutions.

Carbon emissions management

We assist clients in policy planning for corporate carbon management strategies, the implementation of international standards & systematic processes, helping them achieve low-carbon transformation and net zero emission targets.



Contact us for our comprehensive offerings