Empowering high value applications with breakthrough next generation LED display technology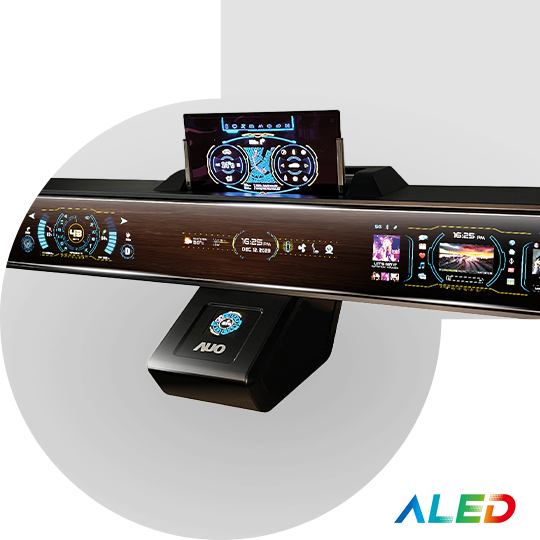 Displays that are entirely composed of single LED pixel units offer unmatched brightness and contrast ratio; when combined with various backplane technologies, this technology can surpass current design and size restrictions to build an infinite ultra large display. The advanced LED display technology can also be applied in different shapes such as curves, one-dimensional arcs, or two-dimensional spheres. For mid to small sized applications, AUO's micro LED utilizes technology to mass transfer millions of micro LEDs onto a LTPS backplate to produce display modules that are industry leading solutions with a several hundred PPI pixel density; for ultra large displays, LED displays are seamlessly tiled to provide an optimal viewing experience in all types of large spaces.
By combining years of surface treatment and image processing technology, the seamlessly tiled ALED modular product by AUO boasts fine pixel pitch and ultra high frame rate, not only surpassing the size restrictions of displays, but meeting the need for various shapes, and dimensions. Seamless tiling is possible for various scenarios, while providing industry leading image performance and immersive viewing experiences.
Comprehensively customized design

AUO is capable of developing customized curved displays, and has solid in-house R&D capabilities for back end image processing chips that present accurate colors and can be image calibrated to the curvature of displays. In other words, giant displays can be assembled into shapes that are irregular, curved, L-shaped, or spheres to offer users a uniquely immersive, life-like experience.

Optimal color/brightness uniformity

The audience's relative angle to the display has a determining impact on their perceived image brightness and color. When comparing LCDs and OLEDs, LED display technology offers superior uniformity in color and brightness. No matter how the user's relative angle to the monitor changes, image color and brightness are maintained at optimal levels. Additionally, AUO's true black reflectionless surface treatment technology is capable of presenting high contrast image quality.

Optimized image quality

When combined with the image engine chip designed by AUO, color bits can be expanded to fully present low grayscale and dark details as well as the most faithful colors without color cast. Furthermore, AUO's LED displays can intelligently determine image scenarios and dynamically adjust picture contrast to achieve an extraordinary image performance with smart power efficiency and high dynamic contrast.
Application
Customized commercial display

Seamless LED displays assembled with light boxes can be customized based on the environment to perfectly integrate them into spaces and present visual information in the most eye-catching method. They can be used to display advertisement information or for dynamic image playback, among other applications in malls and theaters; they can also be deployed as outer wall displays on buildings, or even to create urban landmarks.

Smart studio

There are several limitations to the method of filming on green screens and combining them with post-production special effects. Using ultra large LED displays to move virtual scenarios into the studio can better help actors immerse themselves into scenes and save massive amounts of time in post-production. AUO will soon implement smart studios in large performance spaces and schools to accelerate the upgrade and transformation of the film and television entertainment industry. Learn more

Simulation training/Entertainment display

Seamlessly tiled LED technology can be used to assemble massive curved displays to offer users an immersive, life-like visual experience. Whether it is a simulation cockpit for training or a theater seeking an extraordinary level of visual enjoyment, seamlessly tiled LED technology can be implemented to massively upgrade users' experience. Learn more
Contact us for our comprehensive offerings