The virtual studio built by AUO and Space4M is introduced to Shih Hsin University as a means for students to stay on top of market trends and take their imagination to the next level. It will make talent in Taiwan more competitive globally.

Shih Hsin University is an incubator for talent in Taiwan's television and film industry and devotes constantly to advance smart filming technologies. Space4M, a subsidiary of AUO that specializes in smart entertainment integration solutions, has created for SHU the largest LED real-time mixed reality virtual studio in Taiwan. By applying its strength in software and hardware integration, Space4M has turned sophisticated LED display technology into a 270-degree panoramic screen that is 15 meters wide and 6 meters tall, comprising more than 2,200 LED panels and a skyscreen. The screen occupies approximately 1,554 square meters. It is equipped with real-time image tracking from Hollywood and coordinates the systems in perfect harmony. It is also Taiwan's largest MR virtual studio. Unlike with green screen virtual sets where everything is done in post-production, this virtual studio has given birth to a brand new film production process and enables on-site special effects that are immediately visible.
As part of the collaboration between Space4M and Shih Hsin University, the virtual studio breaks from the traditional film production process and revolutionizes the entire filming industry chain, a first in Asia. It combines the latest trends with the academic sector and helps Taiwan's creative talent and filming industry be more productive through the LVS. The device can be expected to play a key role in film productions in the future.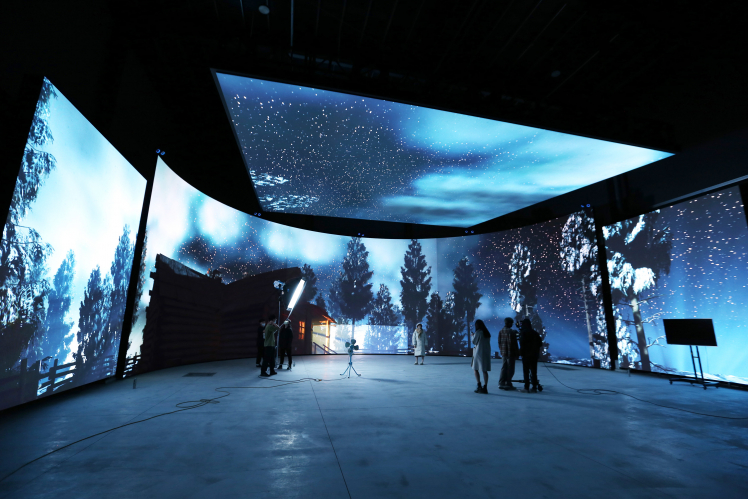 Contact us for our comprehensive offerings