Innovative RTV technology and AI (Artificial Intelligence) for water conservation and creation achieve process water recycling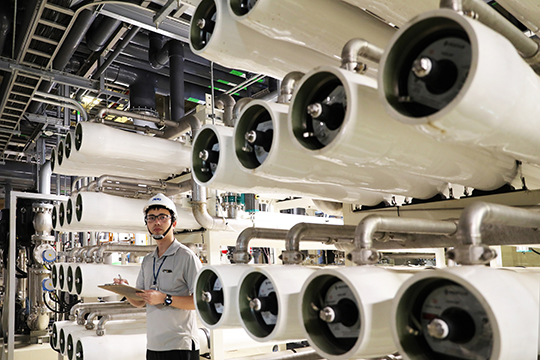 In response to the transformation trends of the manufacturing industry and net zero emissions, AUO Envirotech developed a new generation of zero-emission equipment featuring RTV (Room-Temperature Vaporizer) technology. By utilizing low-pressure steam as the heat source, this equipment recycles wastewater without high-pressure steam. It removes the steam in wastewater by absorbents to reduce the power consumption of a long-running vacuum pump. An operating temperature maintained at room temperature can save energy and lower the risk of equipment corrosion. Meanwhile, the equipment also adopts an AI module for real-time monitoring to find out the best conditions of water production and achieve benefits, including water conservation and creation, energy saving, and carbon reduction.
Feature and Technology
Exclusive RTV technology is compliant with green manufacturing and features low consumption and low cost. The combination with AI-based real-time monitoring contributes to a stable and reliable performance.
Low power consumption to save more energy

RTV (Room-Temperature Vaporizer) technology reduces power consumption.

Smart AI control

Image sensing integrated with smart AI control modules can precisely predict changes in water quality and accurately control the endpoint.

Easy daily operations

Smart monitoring platform teams with the app to achieve easy operations featuring real-time monitoring, troubleshooting and scheduled maintenance reminder.
Contact us for our comprehensive offerings