Assist companies in management and realizing net zero emissions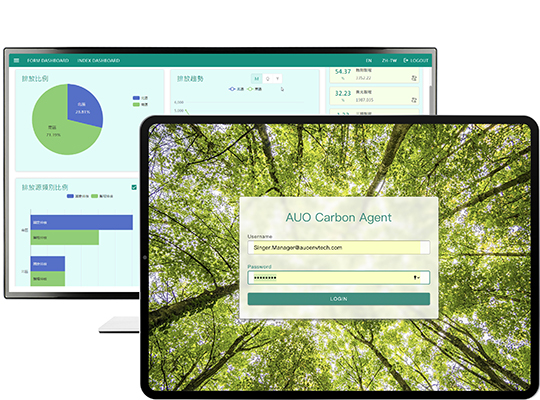 By following ISO standards, AUO Envirotech developed a comprehensive carbon management platform (AUO Carbon Agent) compliant with international standards. The built-in carbon emission factor database of the inclusive greenhouse gas inventory module allows customers to calculate carbon emissions according to the data of carbon emission sources, including the organization, products and supply chain and improve the efficiency of the inventory operation. This also enables the customer to develop a long-term carbon reduction strategy to achieve the goals of low-carbon transition and net zero emissions.
Feature and Technology
This platform, compliant with global standards of greenhouse gas inventory and giving customers a thorough understanding of carbon emissions, is the best partner for companies aiming for a low-carbon transition.
Compliant with international carbon inventory requirements

The system provides functions like emission calculation, inventory list, and report output to help customers update domestic and foreign carbon emission factors as and reduce management costs.

User-friendly interface

The user-friendly operation interface, incorporating the carbon emission factor database, calculation Methodology, and OCR (Optional character recognition), enables customers to perform carbon inventory easily.

Visualized inventory results

Holistic carbon management can rapidly read the current status of carbon emissions, compare the emission and trend of each facility and estimate the internal carbon cost to find hotspots and opportunities as the reference when making decisions about carbon management.

Contact us for our comprehensive offerings