AI comprehensively manages solar power plant to help customers maximize returns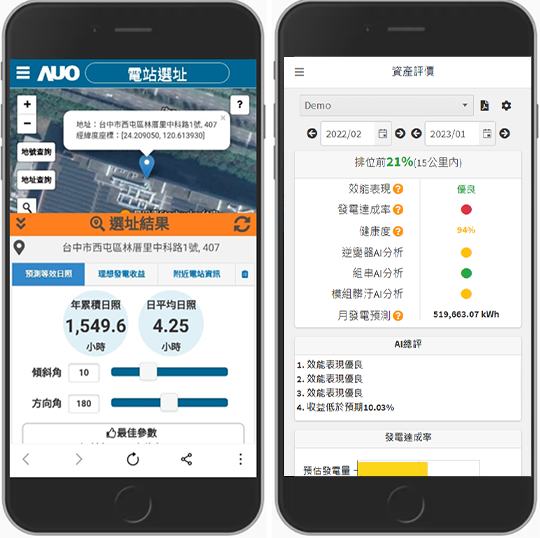 By adopting digital information and AI technology, AUO's solar asset management system simplifies complicated data from PV surveillance and electricity bills into critical financial indicators for customers, with a visualized asset management dashboard. From the assistance of solar power plant selection to health check, this whole-lifecycle asset management solution helps customers to maximize returns of solar assets.
Feature & Technology
AI technology and visualized health check report for efficient solar asset management.
AI-visualized dashboard

A clear and simple user interface simplifies complicated data into critical financial indicators.

AI-assisted site selection technology

Virtual AI insolation technology provides a map displaying local power generation efficiency to effectively assist site selection of solar power plant.

AI-based power station health check technology Provides a power plant exclusive health check report

- Power plant performance ranking (compared to big data-based AI virtualized site)
- Power generation achieving rate
- Trend graph on power plant health
- Equipment anomaly loss analysis and trend graph
- Prediction of power generation in the next 12 months
- Overall review on power station health check and suggested improvement

Contact us for our comprehensive offerings