Flexible and lightweight PV module to expand the field applicability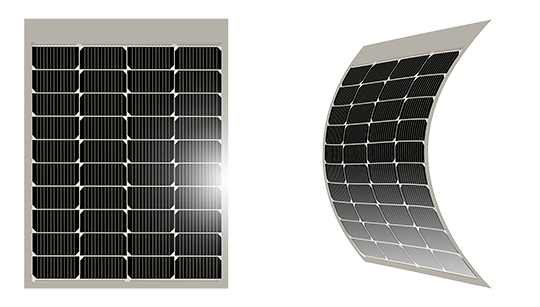 Conventional PV modules usually come with a fixed size and are mostly installed for roof or ground-type systems. AUO SunCurva features flexibility and is light-weight, passed the electromagnetic compatibility test, and comes with a certain level of impact resistance and fire retardance. This module can be applied to building facades or transporting vehicles like electric cars and yachts to increase the application of solar energy significantly.
Feature and Technology
Light-weight, flexible, and compliant with multiple safety tests.
Flexible and lighter in weight

A radius of curvature up to 400mm allows this module to be installed on curved surfaces. The special materials with high weather resistance not only reduce the weight by 70% than conventional modules but also enhance the applicability to various fields.

Compliant with vehicle electromagnetic compatibility test

Passed the Vehicle Safety CISPR 25:2008 Electromagnetic Compatibility Test, and can be applied to vehicles.

Impact and fire resistance

Sharing the same level of fire resistance (IEC 61730-2:2016 Class C) with conventional modules and compliant with IEC 61215-2:2016 hail resistance test. The mechanical strength enables this module to resist impacts from foreign objects.

Hydrophobic and stain-resistant surface

Dirt and water stains rarely remain on the module surface. Effectively reduce the frequency of cleaning as well as improve power generation efficiency.

Contact us for our comprehensive offerings