Customizable and flexible content management system: agile cross-border digital marketing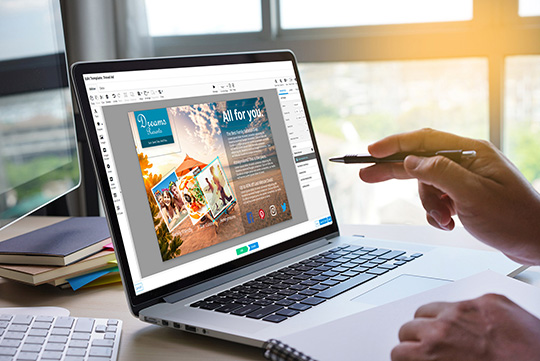 AUO launched an interactive digital content management system that can be combined with different operating systems to meet the demands of digital marketing. The system offers numerous optional software and intuitive controls that dispatches marketing content to major global retail locations with the push of one button and provides real-time data monitoring. The highly efficient management of cross-border digital marketing content offers endless application scenarios. The system has been adopted by multinational retail chains and implemented in over 10,000 sites worldwide.
Feature and Technology
Our digital content management system seamlessly interfaces with corporate and private intranets to remotely perform cross-border deliveries, thereby massively improving digital marketing efficiency.
An accessible, rigorous editing management platform

The editing platform's intuitive controls preserve comprehensive records when delivering cross-border digital marketing and allow real-time monitoring of feedback data to help pinpoint business opportunities.

Sync images across media players

Inter-Player Sync is applied to large environments to create captivating visual effects.

Two-way interactive functions

The expanded human-machine interactive module accurately displays customer-selected product content.

Localized information

The system's hierarchical management mechanism can deliver universal content and offer the flexibility of localized information for regional branches.

Contact us for our comprehensive offerings