Unique panel design, flexible and diverse applications—
A cut above the rest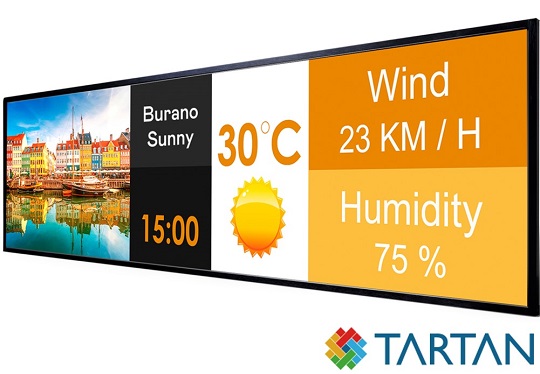 AUO's public displays have been deeply integrated into people's daily lives and are found in places such as retail stores, malls, outdoor advertisements, transportation systems, schools, and entertainment locations. They help customers with their marketing campaigns, to convey messages, to enhance the public's education, and to provide entertainment. AUO has continually made breakthroughs in display technology by developing various TARTAN displays with ultra-high resolution, ultra-high brightness, curved designs, and distinctive stretched, square, and round outlooks. Each can be integrated with touch technology to build the most eye-catching, smooth, and high-quality customized promotion tool for customers.
Feature and Technology
Offer reliable operations for continuous operations that can be the most eye-catching outdoor displays. Customized to special dimensions that allow for agile applications in various fields.
High reliabilities

Industrial-grade panels offer reliable operations and have passed tests for high temperatures, high humidity, and durability for continuous operations in semi-outdoor or outdoor areas. The availability of customized specifications with touch functionality and curved display technology allows agile applications in diverse fields.

TARTAN technology, customized for unique dimensions

The exclusive TARTAN display technology utilizes a native photomask design that offers high stability. It can be customized to fit special shapes and sizes, including round, stretched, and square displays, providing additional diversity and liveliness in application scenarios such as retail stores and transportation.

The most eye-catching outdoor displays with high brightness and wide viewing angles

For complex outdoor environments filled with interference, AUO offers an ultra-high brightness product line, utilizing AMVA technology designed for wide viewing angles, high contrast, and glare resistance so that every angle of the image displays high fidelity under bright outdoor sunlight. The round polarizer design allows messages to be read clearly while wearing polarized sunglasses.

Integrated touch technology

Solutions such as On-Cell Touch and full lamination technology are available in addition to features such as ultra-high resolution, lightweight and slim, bezel-less design, exceptional optical performance, and multi-touch functionality for smooth, intuitive control.

Curve display technology

Curve displays utilize the latest panel structure design and glass thinning process to reduce image blur and solve color mixing due to shifted substrates. The addition of 4K ultra-high resolution offers an immersive visual experience for entertainment applications.

Contact us for our comprehensive offerings