AUO displays aim for perfection with larger, more life-like, and energy-efficient displays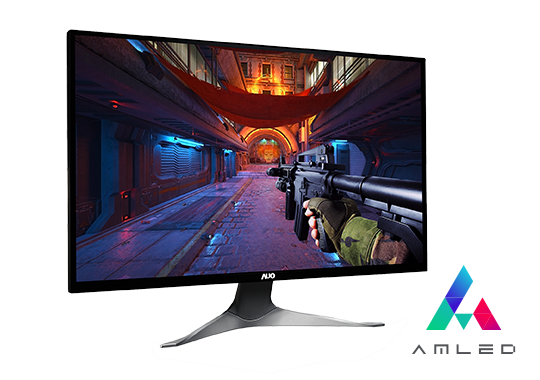 In response to gamers' and professionals' pursuit of the ultimate image quality, AUO has continually developed breakthrough products featuring high refresh rate, high resolution, and our exclusive Adaptive mini LED (AmLED) display technology that brings clarity to dark details, creating smooth and life-like visual feasts. Panels designed with optimal curvature offer an immersive display experience. Our Advanced Reflectionless Technology (A.R.T.) and low blue light technology provide a natural and comfortable viewing experience without hurting users' eyes after extended periods.
Feature and Technology
We have continually striven to develop life-like image quality and beautiful designs while enhancing anti-reflection and power-saving technology to satisfy diverse application scenarios.
Minimalistic aesthetics

Next-generation visual aesthetics with bezel-less surface and optimal panel curvature.

Unmatched image quality

High-resolution image quality with AmLED technology, offering dynamic local lighting for finely layered light and shadows; superior quantum dot wide color gamut for vivid, life-like images.

Fight fatigue with low blue light technology

Low blue light and A.R.T. prevents glare and reflections in protecting your eye health.

Low energy consumption

High transmittance power-saving design with smart brightness adjusting backlight. Compliant with industry energy-efficient regulations.
Contact us for our comprehensive offerings