High image quality, high reliability, and touch capability in
various sizes that satisfy the requirements of any field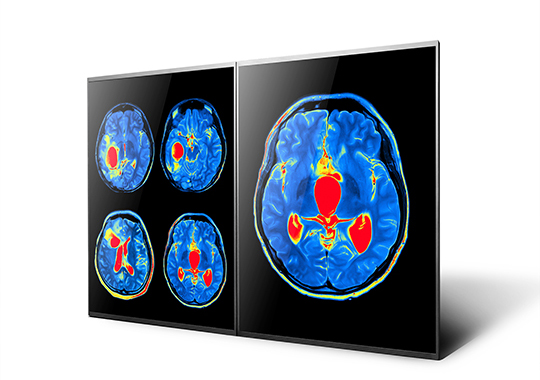 AUO general displays continue to lead the industry through years of research and development. In addition to the usual image clarity, AUO's displays boast high reliability with high brightness, resistance to wide temperature ranges, and shock-resistant designs, allowing for long periods of stable usage even under bright light or harsh environments. Features such as high-resolution, high-contrast, and wide color gamut are suitable for applications such as medical-grade panels in achieving an accurate diagnosis.

AUO general displays offer design customization and integrated touch solutions for application scenarios including the medical, industrial, retail, entertainment, and transportation fields, among others, with everyday products including automated teller machines (ATM), points of sales (POS), industrial PCs (IPC), interactive information service stations (KIOSK), and in-flight entertainment. In addition to displays, scanners and X-ray sensors have been developed to expand into even more diverse application fields.
Feature and Technology
Technologies such as exceptional image quality with resistance to wide temperature ranges and shocks, high stability, touch function integration, and professional medical-grade displays meet the display requirements of any field.
Shock, dust, and extreme temperature-resistant solutions with long product life

Reinforced panels built through special processes ensure extended periods of stability in harsh environments with high temperatures, humidity, or dust. Wide temperature range LCD technology can resist temperatures between -20℃ to 70℃. In contrast, the high temperature-resistant polarizer has a power-saving and cooling design to maintain optimal performance even in severe environments.

Integrated touch technology

On-cell and in-cell touch solutions, among other diverse options, are available in addition to lightweight designs and exceptional optical performance. Smooth, simple, intuitive, and accurate controls meet the requirements of any consumer electronics.

Professional medical-grade display technology

Solutions with high-resolution, wide color gamut, and ultra-high contrast ratio provide clear images to identify minute differences in human tissue and blood. 3D display technology offers vertical 3D images with wide viewing angles in high resolution and vivid colors. Advanced reflectionless technology (A.R.T.) eliminates the impact of environmental light sources to present digital pathological images in true color and consistent features.

TFT sensing technology

TFT X-ray sensing technology utilizes a proprietary photoelectric conversion technology to sense and converts large and clear grayscale images with low image noise. Our flexible X-ray sensing technology drastically reduces product weight, making it suitable for mobile X-ray equipment. TFT fingerprint technology offers advantages such as high precision recognition and ultra-large sensing areas, as well as the ability to operate in brightly lit outdoor environments.

Contact us for our comprehensive offerings