AmLED and micro LED,
the pinnacle of display technology: New visual experience in smart cockpits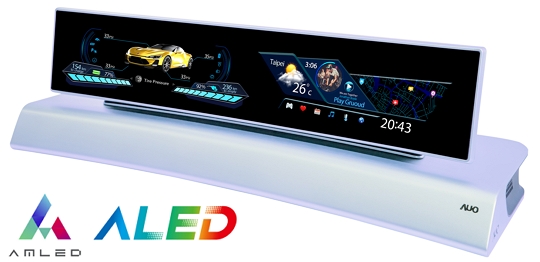 AUO continues to innovate as the world's leading supplier of automotive panels by integrating our powerful consumer electronic display technologies, such as free-form, curved design, large size lamination, AmLED display technology, ALED display technology, large-size in-cell touch, and active privacy. These technologies are comprehensively applied to expand automotive displays in dashboards, center consoles, rear-view mirrors, head-up displays, and backseat entertainment systems. The user-centric integration of automotive displays and human-machine interfaces create a smart cabin system that meets the demands of navigation, entertainment, and shopping scenarios. In addition, haptic feedback, driver surveillance systems, and active privacy technology in the passenger seat further improve car safety. Let the future applications of automotive panels exceed the imagination.
Feature and Technology
Large size, high brightness, reflectionless displays, and AmLED smart local dimming technology capable of exquisite, high contrast images as well as low energy consumption, curved design, and active privacy functions provide a more accessible and safer user experience.
In-cell Touch technology

The embedded large size In-cell Touch technology offers a smoother, more intuitive user experience as well as panel bezels are narrower and thinner when displays are darker with low color washed-out, allowing them to meld into automotive interiors.

Exclusive AmLED technology

AmLED automotive panels perfectly express AUO Group's resources, integrating custom mini LED, special structured optical film, and an IC solution with exclusive local dimming technology. The result is a product with high brightness, high contrast, power saving, and high reliability combined with In-cell Touch technology, creating a premium cockpit display solution.

Micro LED
The next-generation display technology

The micro LED technology features ultra-high brightness and high dynamic contrast image quality as well as high flexibility and bendability, high weather resistance, and high transparency, allowing for greater design flexibility and massively improving the design quality, safety, and space utilization.
Contact us for our comprehensive offerings