Create an all-new riding experience with the AUO smart dashboard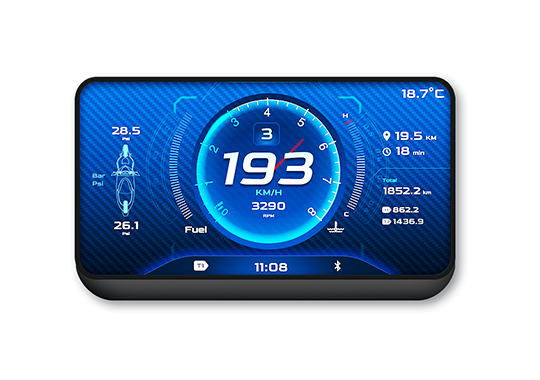 The AUO Smart Dashboard bridges communication between motorcycles, smartphones, and the cloud to provide a safe and user-friendly riding experience. In addition to outstanding visibility and readability, the dashboard connects to smartphones via Bluetooth to display information such as GPS navigation and road conditions. The Smart Dashboard utilizes the CAN bus system and Bluetooth to collect the status of vehicle devices, including speed, TPS, fuel, and battery levels. The information is displayed on the AUO Smart Dashboard for the rider to read at a glance and easily grasp the vehicle's condition instantly and react if there are any issues. The AUO Smart Dashboard also connects to cloud platforms for connected vehicle applications and provides motorcycle riders with easily accessible information and improved safety while riding.
Feature and Technology
The AUO Smart Dashboard can easily link motorcycles with smartphones, integrating functions such as GPS navigation, vehicle condition, road conditions, and communications so that important messages are never missed. The AUO Smart Dashboard enhances motorcycle riding experiences while maintaining safety.
Easy-to-read turn-by-turn navigation

The AUO Smart Dashboard connects via Bluetooth for smartphone GPS navigation, displaying important information such as road names and the vehicle's intended direction. The turn-by-turn technology offers navigation information at a glance and improves riding safety.

Stay on top of vehicle and road conditions

The AUO Smart Dashboard shows the vehicle's speed, RPM, TPS, fuel, and battery levels, so riders can quickly stay on top of the motorcycle's condition. Additionally, the dashboard's smart warning system provides warnings for speeding and rear-end collisions.

Outstanding visibility and readability

Information is clear for the rider to read, whether under bright light or at night.

Robust designs for operating in harsh environments

The AUO Smart Dashboard is extremely durable and reliable, having passed the IP6X dust ingress test and IP7X water ingress test.

Contact us for our comprehensive offerings